Preparedness for the Whole Community
No two disasters are ever the same. Yet, virtually all incidents disproportionately affect individuals with access and functional needs (AFN) (i.e. people with disabilities, seniors, children, limited English proficiency, and transportation disadvantaged).
The County of Sonoma utilizes a whole community approach by offering training and guidance to emergency managers and planners, disability advocates and other service providers responsible for planning for, responding to and helping communities recover from disasters.
The following information is designed to provide additional resources for community members with access and functional needs that are not always obvious and may not be covered in the SoCoEmergency Preparedness information.
County Resources
Know who to contact for transportation help if you are not physically able to evacuate by yourself due to a disability or other condition:

Sonoma County Paratransit/Volunteer Wheels at (707) 573-3377
In a life-threatening emergency, call 9-1-1.

For information on critical Alert and Warning resources, visit Sign up for alerts.
Learn about making an emergency plan
Read more about building a kit
For special information regarding PG&E power shutoffs, see Preparing for Power Shutoffs
Disability Services & Legal Center is available to help residents with AFN prepare for evacuation, disasters and PSPS. Visit the the DSLC page.
Preparing your child for a disaster
The needs of children with autism present challenges for their families and caretakers when faced with a disaster. Because children with autism have difficulties adapting to new situations, preparation is key to ensuring their success during a disaster. This customizable booklet addresses the specialized needs of your child: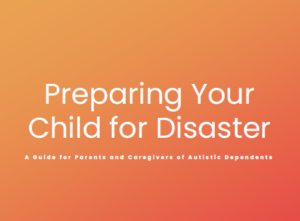 State and Federal Resources

This video brought to you by the Ready Campaign and Ad Council shows people with access and functional needs taking charge to prepare themselves and their families for emergencies.