Based on certain conditions, which include Red Flag Warnings, winds, low humidity, fuel loads, and observable conditions, PG&E may shut off the power anywhere in Sonoma County. Power could be out for a number of days depending on conditions. Stay informed about outages affecting your service on the PG&E Outage map here: https://pgealerts.alerts.pge.com/outages/map/
Learn more about Red Flag Warnings, what they mean and which activities are discouraged during Red Flag conditions.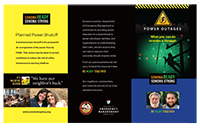 Print the lists below or download "Power Outages: What you can do to make it through" and keep these lists handy in case the power is turned off.
Remember, the conditions that cause PG&E to turn off the power also mean we have a high risk of wildfire during this time.  For information about wildfire preparedness and Red Flag Warnings, see Wildfire Readiness.