Planning in Advance
People and pets are your first priority.
If you will need help to evacuate quickly reach out, in advance, to neighbors, family, or friends and discuss how they can assist you, what you will need, and a back-up plan in case the primary help is not able to assist.
Be sure to have extra supply of life-saving medications on hand, as well as copies of prescriptions.
Remember, first responders will be overloaded in a disaster, help yourself by planning in advance!
Complete a Personal Emergency Plan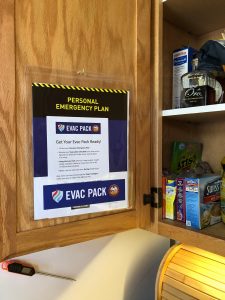 Evac Packs are available, while supplies last, at your local Sonoma County Library via Curbside Pickup or an in-branch visit. The Sonoma County Department of Emergency Preparedness's Evac Pack contains a Personal Emergency Plan template for use in planning for disaster. The plan has space to fill in important information like meeting places, emergency contacts, medical needs, and more. Also included is an information sheet, tips for power shutoffs, and a check list for evacuations.
The County has published additional recommendations for those who have access and functional needs.
---
Be Ready: Evacuation Timeline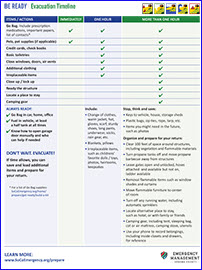 When you are asked to evacuate due to a danger you may have little time to grab your Go Bag and get safe. Sometimes you do have a bit more time. Here is a list to help you get started planning what you may want to take if you have an hour or more before you need to go.
This checklist should be customized to your family – be sure to have a family discussion about what would be your first priorities, if you had some extra time.
The list includes some suggestions if you have enough time to prepare some things around the house to assist firefighters and help your home stay safe.
---
The 6 P's
People and Pets – Have a plan.

Do you know at least two ways out of your community?
Where will you meet family after evacuation?
Where will you stay and how will you contact each other?
Where will your pets stay?

Papers, phone numbers & other important documents.

Deeds, birth certificates and other irreplaceable documents should be in one location so these can be grabbed at a moment's notice.

Prescriptions, eyeglasses, and vitamins.

You may be gone from your home for days, so be sure you have access to all your health related items.

Pictures and irreplaceable memorabilia

These are priceless and could be lost forever.

Personal computers or any information stored on hard drives and disks.
Plastic ( credit cards, ATM cards) and cash.
---
Ready.gov

Ready.gov provides step by step advice for to help you and your family plan for emergencies.
Talk about it– topics to discuss with your family and friends
Make it yours – recommendations to help you tailor your plan to your specific needs
Write it down – written information to share with your family
Practice – so you know what to do in case of emergency