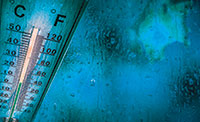 There are no current cold weather resources needed in Sonoma County, however this page will be updated with the latest information in the case of a cold weather emergency.
Freeze warnings pose a significant health risk, particularly to the elderly, young children, the unsheltered and those with chronic illness. When exposed to cold temperatures, your body begins to lose heat faster than it can be produced. To keep yourself and your loved ones safe, you should know how to prepare before a cold front or winter storm hits. Preparing for Extreme Cold »
Sonoma County cold weather resources
Sonoma County works closely with local homeless providers to ensure needs are being met and helps augment with additional resources as needed during freeze alerts. Where noted, these facilities and spaces are in addition to year-round shelters. The additional beds and spaces help protect people from the year's harshest weather. Spaces may be available on a first-come, first-served basis, and may offer wraparound services as well. In the event of an emergency, shelters and cold weather resources will be listed here.