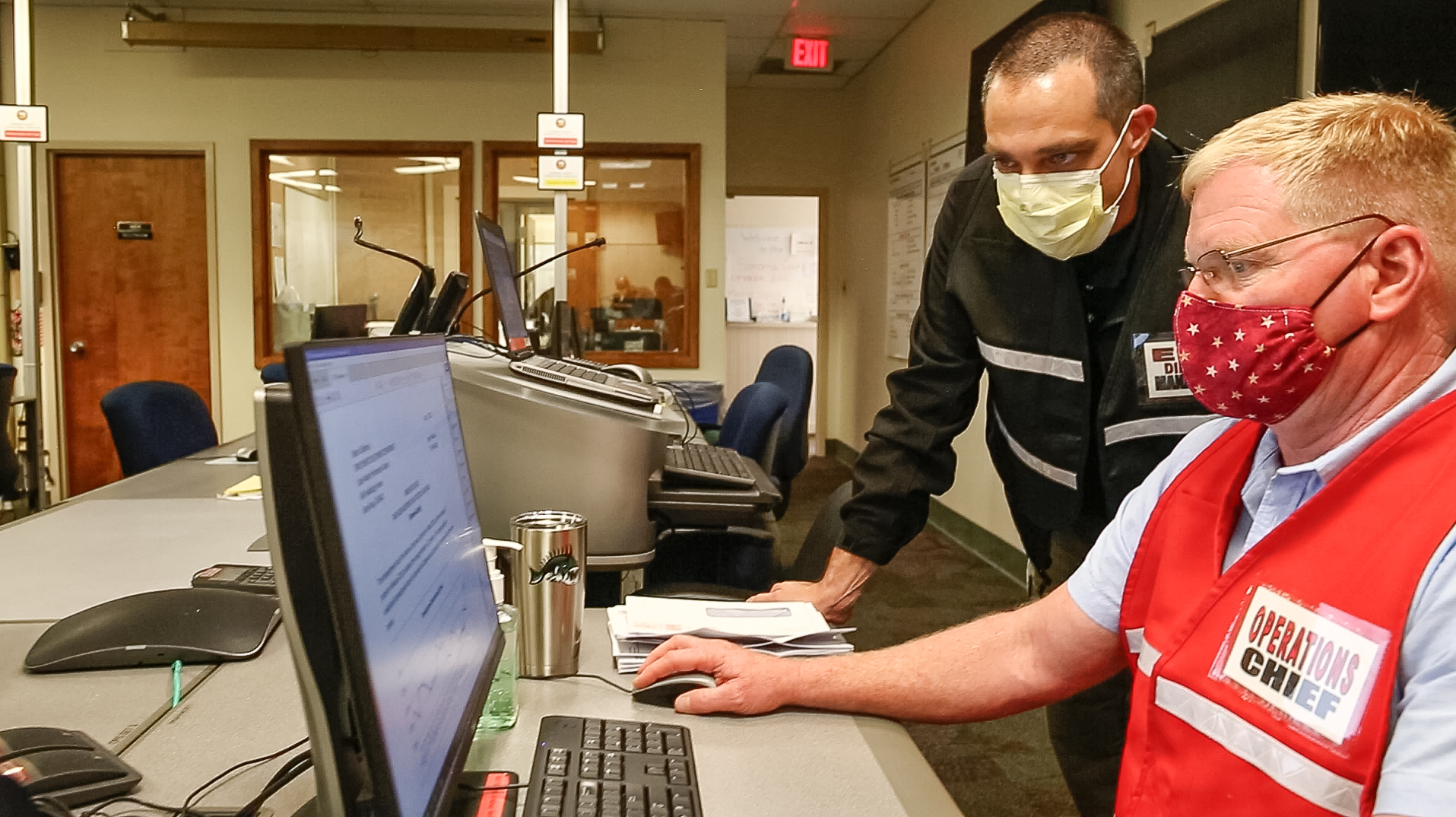 The 2017 wildfires served as a wakeup call: Sonoma County needed to overhaul the way it prepared for disasters.
The county had never before experienced fires that moved so quickly, with such devastating consequences. Driven by winds exceeding 60 mph, flames raced from woodlands into dense neighborhoods with little warning in the middle of the night. It would take more than three weeks to contain the firestorm, which left 24 people dead, destroyed 5,300 homes and burned 173 square miles in Sonoma County.
Many lessons would be learned during that hellish month and the extensive analysis that followed. To implement them, the Sonoma County Board of Supervisors created the Department of Emergency Management in 2019 and empowered the new agency to lead disaster planning, response and recovery. It has coordinated to a number of initiatives that led to significant improvements, including:
Faster alerts, in English and Spanish, with alternative ways of warning residents of impending danger.

A network of cameras, powered by artificial intelligence, to quickly detect fires in remote areas at any hour of day or night.

Improvements in evacuation planning, including enhancements in services provided at emergency shelters.

Better communications, including closer coordination with local, state, federal and nonprofit organizations.
"We are more prepared today than we were five years ago following an immense amount of work across the county, by many organizations and county residents," said Christopher Godley, director of Emergency Management. "But it is only a matter of time before we are tested again, whether by fire, drought, earthquake, pandemic or some other threat. Every one of us must take action now to ensure we have the information and resources we need to meet the challenges of the next disaster."
A new approach to alerts
The department developed new policies, procedures and tools to quickly alert Sonoma County residents to emergencies. Alerts are now delivered simultaneously in English and Spanish – critical in a county where a quarter of residents speak a language other than English at home. Information is transmitted over multiple alert platforms, enabling the county to communicate with residents during an emergency if one or more systems are compromised. These systems include:
SoCoAlert

, a geographically targetable alerting system that sends automated messages to phone, text, email and TDD systems. Residents are encouraged to sign up for alerts, although the county also uses contact databases that have been purchased or donated.

Nixle

, which sends text messages and emails to subscribers. While primarily a public information tool used by public safety and government agencies, Nixle can be used to reinforce and extend emergency warnings.

The National Oceanic and Atmospheric Administration weather radio system

, which is not dependent on the telephone network. When properly programmed and tuned to the NOAA radio frequency at 162.475, the National Weather Service can remotely turn on these radios and send basic alerts.

The Wireless Emergency Alert system

, which sends a brief text message along with a unique tone to all WEA-enabled cellphones in a designated area.

The Emergency Alert System, which transmits emergency messages over local radio and television stations.

Hi-Lo sirens

, which are mounted on law enforcement patrol cars and other emergency vehicles. Their unique tone, similar to a European ambulance, is used to warn residents to evacuate.
All alert systems are tested throughout the year to check their effectiveness. Emergency Management has an intensive training, testing and exercise program to ensure that alert originators understand how to properly launch alerts. Additionally, the department conducts numerous exercises to ensure the reliability of these systems and better understand their weaknesses. 
Every week, the incoming Emergency Management duty officer is tested with a scenario that requires them to process the data and prepare a viable alert for launch. Once a quarter, supervisors at the county's REDCOM fire and ambulance dispatch center undergo training to maintain their proficiency in the Wireless Emergency Alert system. Live tests of the WEA system have been conducted in selected communities, including Occidental, Kenwood and Oakmont. Last year, the county brought in more than 30 local, state and other public safety agencies for a tabletop exercise to gain a better understanding of the alert and warning process.
Detecting fires quickly
The first known artificial intelligence system for the detection and reporting of wildfires in the state became operational in Sonoma County, thanks to a federal grant. Building on the existing network of fire cameras, the AI system began field testing in May 2021 and detected more than 60 vegetation fires before the end of the year. Emergency Management and partners have installed five additional fire cameras in remote areas of the county at Sears Point (Sonoma Raceway), Siri (Monte Rio), Moonraker (Sea Ranch), Meyers Grade, and Oak Ridge (Annapolis). Currently, there are 36 AI fire cameras operational in Sonoma County. View live footage from fire cameras at https://alertca.live/
Evacuations and shelters
The county and its nine cities overhauled their approach to evacuations in 2021, creating a map that divided the county into 389 evacuation zones. The initiative, spearheaded by the Sheriff's Office, allows residents to look up their evacuation zone in advance and quickly determine if they must leave the area during an emergency. To accelerate delivery of evacuation warnings and evacuation orders, Emergency Management pre-recorded messages for each zone in English and Spanish – more than 1,100 messages in all – and uploaded them to the SoCoAlert system. The project proved its worth during the Ormsby fire on Sept. 21, 2021, when a house fire near Petaluma ignited vegetation nearby and prompted evacuations by the Sheriff's Office. Upon receiving and confirming the request, Emergency Management sent the evacuation order to hundreds of residents within 4 minutes, significantly faster than the 20- to 30-minute average it previously would have taken to create and send out an alert.
Over the last several years, Emergency Management has conducted evacuation and alert exercises around the county, giving residents an opportunity to practice disaster activities. During the exercise, a temporary evacuation point is set up where residents can attend an emergency preparedness fair that provides information on how to prepare for an actual emergency. In April, Emergency Management held an alert exercise for residents in the Springs area of Sonoma, which has a high number of Spanish-speaking residents. The exercise allowed the department to test its Spanish emergency alert messaging and seek feedback from the community to improve our messaging to all residents.
In April, Emergency Management enhanced the county's Emergency Operations Plan to ensure all residents and visitors in Sonoma County receive equitable care and shelter, regardless of immigration status or abilities. The plan was developed with input from other county departments, cities and community groups, including the Sonoma County Access & Functional Needs committee. It also reflects significant engagement with LatinX residents coordinated by the Office of Equity. The plan, a working document designed to evolve in response to ever-changing threats, was the first in California to implement new state requirements to incorporate cultural competency and was designed to be fully accessible by county residents..
Keeping residents, partner agencies informed
To centralize the county's communications during an emergency, the Department of Emergency Management created a new website, SoCoEmergency.org, with detailed information to help residents prepare for disasters, understand current emergencies and connect with recovery resources. All information is distributed simultaneously in Spanish at SoCoEmergencia.org. The website has grown dramatically, from 220 pages to nearly 7,000 pages today, delivering the latest local information on the COVID-19 pandemic, the drought and other public safety threats, including earthquakes, extreme heat, power outages, flooding and landslides.
Emergency Management has also taken steps to improve communications with its partners in the county's nine cities, law enforcement, fire agencies, schools and nonprofits. The department conducts a weekly Operational Area meeting with the National Weather Service and its other partners to discuss potential threats and other situational awareness.These Operational Area calls are conducted more frequently during a disaster.
The county's Emergency Operations Center has enhanced public information by having staff from multiple agencies come together to address imminent threats. Other new additions to the EOC include positions for Community Organizations Active in Disaster, which coordinates the response by local nonprofits, and the county Office of Equity, which ensures response efforts serve communities of color and historically marginalized communities.
Communication before a disaster is equally important. Since 2019, Emergency Management has organized and/or participated in more than 270 emergency preparedness events. These events include collaborations with nonprofits, neighborhood groups, social/fraternal clubs, disaster preparedness groups, farmers markets, libraries and others. Participants receive evacuation checklists, go-bag supplies, power outage tips and evacuation zone information.
Resilience centers
Emergency Management has embarked on a new initiative to create Community Emergency Resilience Centers in each of the county's five geographic districts. These facilities, stocked with supplies and equipment, would provide logistic and operational support during an emergency. Located outside flood and wildfire zones, the steel buildings would be designed to withstand an earthquake and would be equipped with the ability to generate and/or store electricity. Construction is expected to start next year on three of the facilities, located in Forestville, Sonoma and Santa Rosa.