The 1,369 miles of roads in unincorporated Sonoma County provide critical evacuation routes for rural residents during wildfires. Keeping them safe and clear is just one job of the county Department of Transportation and Public Works .
Following the 2017 wildfires, the department launched multiple initiatives to expand vegetation removal programs along county roads, repair infrastructure and increase support for rural residents seeking to reduce fire fuels on their properties.
In 2017, TPW developed an Integrated Vegetation Management plan, which includes a combination of mowing, pruning and grading to prevent fires, maintain surfaces, clear sightlines, improve drainage and prevent noxious weeds along county roads. 
Vegetation removal is a standard maintenance practice to keep county roadways unobstructed for sight distance, drainage systems and vehicle clearance. The county expanded the program to clear vegetation four feet away from the edge of roadways and 15 feet above roads to reduce fire fuels along key transportation corridors and improve access for emergency vehicles.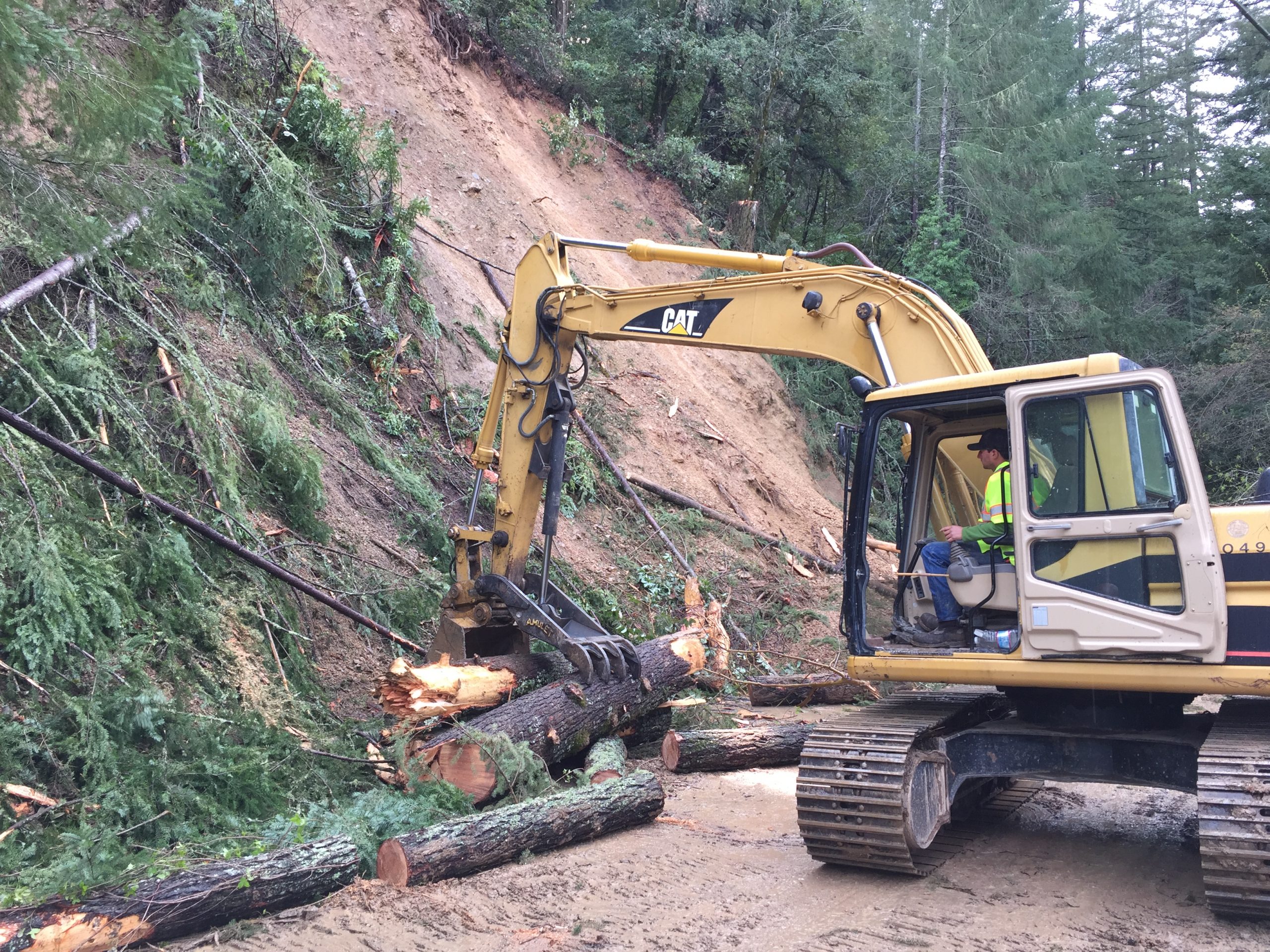 Expanding the program was made possible in part through a strategic partnership with the U.S. Youth Conservation Corps, which offers young adults professional training, work experience and civil service opportunities.
To minimize environmental damage, the department took steps to reduce the use of harmful pesticides that can discharge pollutants into local waterways. It launched a pilot program,  including the use of organic pesticides to control unwanted vegetation along roadways, in partnership with the U.S. Environmental Protection Agency, state and regional water quality control boards, and county municipalities. It demonstrates the department's commitment to protect the Russian River watershed, along with the people and wildlife that depend on it.
In October 2018, the Board of Supervisors approved a contract for a four-year program to assess the risk to public safety and property of more than 10,000 fire-damaged trees along more than 90 miles of county-maintained roadways. TPW coordinated across agencies, including PG&E and Cal Fire, to implement this first-in-kind program. 
As an additional safeguard, the Board of Supervisors approved a second contract for the removal of burned trees on private properties – at no cost to property owners – that presented a high or extreme risk to public safety and property.
TPW is also the lead agency for a fire prevention and public education campaign designed to proactively reduce the volume of fire fuels in rural areas, with a focus on diseased trees suffering from "sudden oak death" in the rural west Sonoma County communities of Guerneville, Rio Nido, Monte Rio, Cazadero and Timber Cove. The program is reducing wildfire risks by removing vegetation identified as hazards to firefighters and the public, in the interest of safe and smooth evacuations during an emergency. In addition to reducing risk of wildfire spread along roadways, the program offers curbside chipping services with education and outreach by Fire Safe Sonoma to encourage property owners to clear hazardous vegetation from their properties. This program is separate from the Curbside Chipper Program, detailed in this article.
Residents are responsible for the removal and maintenance of fire-damaged trees and fuels on private property. The TPW program – which includes public outreach and education on best practices, homeowner assessments, chipper coordination, and reporting services – is helping the county meet its goals of removing fire fuels along public roads and ensuring they remain open to emergency vehicles. 
Other TPW initiatives since 2017
The Department of Transportation and Public Works has launched other initiatives since 2017 to protect the county's existing infrastructure and improve its ability to respond to emergencies. They include:
Installation of a solar power system and backup generators at Charles M. Schulz-Sonoma County Airport.

Installation of backup power generators at the department's Santa Rosa Road Yard, which serves as TPW's incident command center during emergencies, and its Forestville Road Yard. 

Use of aerial drones to conduct advanced inspections of county infrastructure, including bridge scour, a term used to describe erosion around the foundation of a bridge that can cause spans to collapse if unaddressed.

Use of fire-resistant steel and construction materials when building new infrastructure. 

Partnerships with community groups to reduce the threat of fire by creating shaded fuel breaks and removing vegetation.
Upcoming TPW projects
The Department of Transportation and Public Works is pursuing funding for a number of future projects to make the county's infrastructure more resilient. Future projects include:
Installation of a backup power generator at the Airport Operations Center. 

Installation of transfer switch and generators to provide backup power for traffic signals along alternate exit routes near Highway 101. 

Advanced efforts to reduce fire fuels along Sweetwater Springs, Willow Creek and Cherry Creek roads. 

Installation of steel water storage tanks at Fitch Mountain. 

Installation of a backup power generator at the department's Annapolis Road Yard. 

Power backup for remote emergency systems, including pole-mounted cameras and communication relays. 

An initiative to make permanent the county's multiple seasonal bridge crossings. 

The Phoenix Rising sculpture and maintenance hole covers featuring local artwork in Mark West Springs. 

 

New radios in the county's road maintenance vehicles to improve communications during disasters. 

A vegetation removal contract for road maintenance, including management of a Eucalyptus tree grove on Lakeville Road and trimming near Class II bike lanes.