Vehicle Preparedness Kit Contents
Emergency preparedness kits for the car should contain a minimum of 24 hours worth of emergency supplies.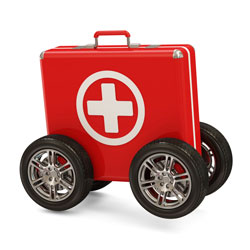 Disaster can happen any time. Americans spend an average of 17,600 minutes driving each year. Most people are never too far from their car.
Having a kit in your car makes sense.
Include the following in your Vehicle Preparedness Kit:
Water – (3) 8 oz. boxes or pouches of water (5 year shelf life)
Food – (3) Meal Size Energy Bars (5 year shelf life)
Warmth/Shelter – (1) Emergency Blankets, (2) 12 hr. Body Warmers, (1) Emergency Poncho
Medical Supplies – (1) First Aid/Medical Kit, (1) Medical Gloves Set
Lighting – Flashlight with batteries, (6) Lightsticks
Support Supplies – Whistle, Work Gloves, Dust Mask, Pack Wet Wipes, 30 Gallon Plastic Bag, Waterproof Matches, Multifunction Tool
Package – One Bag or Bucket with Handle
Note: Replace perishable items like water, food, medications, and batteries on a yearly basis.