Emergency preparedness kits for the home (Shelter in Place) should contain a minimum of 7 days worth of emergency supplies.
Home Preparedness Kit Contents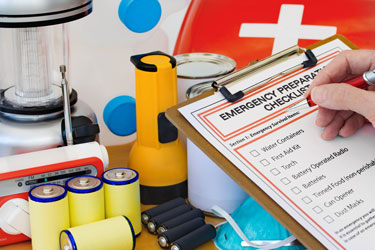 Electrical, water, transportation, and other vital systems can be disrupted for several days or weeks after a disaster. Emergency response agencies and hospitals will likely be overwhelmed and may be affected and unable to provide you with immediate assistance.
To help your family cope after a strong earthquake or other disaster, store a household disaster kit in an easily accessible location, preferably outdoors (or near to the entrance of your garage).
This kit, which complements your personal Go Bags, should be in a large watertight container that can be easily moved or supplies gathered together in an easy access location and should hold at least a 7 day supply. Be sure to check the expiration dates of food and water and replace as needed.
Build Your Home Kit to Shelter in Place
Include the following items in your Home Preparedness Kit*:
Water – Minimum 1 gallon per person, per day.
Food – Canned and packaged foods and cooking utensils, including a manual can opener.
Warmth/Shelter – Items to protect you from the elements such as warm clothing, sturdy shoes, extra socks, blankets, and perhaps even a tent.
Medical Supplies – First Aid/Medical Kit including pain reliever, and a 7 day supply of any required life-saving medications supplies.
Lighting – light sticks and (or) a working flashlight with extra batteries and light bulbs (hand-powered flashlights are also available).
Radio – Hand-cranked or Battery-operated radio (and spare batteries), and a NOAA Weather Radio to receive alerts and warnings.
Support Supplies – Heavy-duty Plastic Bags for waste and to serve other uses (such as tarps and rain ponchos), Work Gloves, Protective Goggles, and essential hygiene items such as soap, toothpaste, and toilet paper.
Pet Supplies – pet food and pet restraints.
Documents – Copies of vital documents, such as insurance policies, copies of prescriptions, and personal identification.
Tools – Wrench to shut off gas, multi-purpose tool.
*For families with infants and young children check out special considerations from the CDC
Note: Replace perishable items like water, food, medications, and batteries on a yearly basis.