Español Abajo
This innovative series takes a unique approach to disaster preparation, with clever satire, entertaining skits, and original music. The programs draw inspiration from popular culture, media references, and sketch comedy. Prepare Yourself! is not your typical public television program. Our hosts guide you through a half-hour of memorable moments that have fun, yet relay important information about home emergency kits, go-bag readiness, property protection, and how neighbors and communities can help each other during emergencies and evacuations. Tune in. Learn some great information. Have fun. And most importantly of all – Prepare Yourself!
This show is broadcast with Spanish interpretation and all episodes will be available on YouTube as well. This five-part series is a collaboration between NorCal Public Media and Sonoma County Department of Emergency Management. See all the episodes here https://www.youtube.com/watch?v=KCO3davjbSQ&list=PLe1zmGdmSUGo-uXedK7xKyqFzgHugXRwR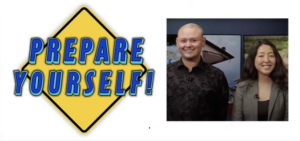 Esta innovadora serie adopta un enfoque único para la preparación ante desastres, con sátira inteligente, sketches entretenidos y música original. Los programas se inspiran en la cultura popular, las referencias a los medios de comunicación y la comedia de sketches. Prepárate! no es el típico programa de la televisión pública. Nuestros presentadores le guiarán a través de media hora de momentos memorables divertidos, pero que transmiten información importante sobre kits de emergencia para el hogar, preparación de bolsas de viaje, protección de la propiedad y cómo los vecinos y las comunidades pueden ayudarse mutuamente durante emergencias y evacuaciones. Sintonice. Aprenda cosas interesantes. Diviértase. Y lo más importante de todo: ¡Prepárate!
Este programa se emite con interpretación al español y todos los episodios estarán disponibles también en YouTube. Esta serie de cinco partes es una colaboración entre NorCal Public Media y el Departamento de Gestión de Emergencias del Condado de Sonoma.
https://www.youtube.com/@NorthernCaliforniaPublicMedia/playlists