Wildfire Prevention Webinar Flyer FireSafe Sonoma West County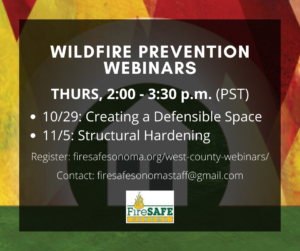 LEARN ABOUT HOME
HARDENING
LEARN ABOUT
WILDFIRE
SITUATIONAL
AWARENESS
FIND OUT ABOUT
FREE HOME
WILDFIRE SAFETY
ASSESSMENTS FOR
TARGETED AREA
Register at:
Upcoming Webinars for West County Residents on Home Hardening and Defensible Space!

Email: FireSafeSonomaStaff@gmail.com
These webinars are part of the Northwest Roadway Safety, Fuels Reduction, and
Community Chipper and Engagement Project, a Sonoma County Transportation and
Public Works grant funded project. The project is intended to reduce risks related to
future wildfires by removing vegetation identified as hazards to firefighters and the
public, in the interest of creating safe and smooth evacuations during an emergency. As
part of this project, Fire Safe Sonoma is providing education and outreach efforts to
encourage property owners in the targeted area to clear hazardous vegetation from
their properties and to take advantage of the Sonoma County Fire Chipper Program.