Español Abajo
This event is for Leaders of Neighborhood Preparedness Groups in Sonoma County. Space is limited so not all may be able to attend. Leaders must have neighborhood group of at least 10 homes that they lead.
NEW IDEAS FOR NEIGHBORHOOD LEADERS
Persuade and motivate your neighbors to engage and commit to
emergency preparedness in a morning workshop presented by Cayly
Dixon from Dale Carnegie Institute.
Discover a new SoCoEmergency Management program for neighborhood
"micro grants" and learn about other local resources available to help you
help your neighborhood
Get inspired during an afternoon workshop on "How to design experiences
that people won't want to miss (and will talk about long after)," presented
by Heather Lerner from the Boy Scouts of America and facilitated by Taylor
Ray of Studio B Creative
Participate in a round table discussion with community leaders pursuing
excellence in emergency preparedness.
Limited Space- Register today at: socobettertogether.eventbrite.com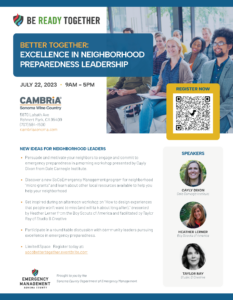 Better Together Flyer English/Spanish
Este evento es para Líderes de Grupos de Preparación Vecinal en el Condado de Sonoma. El espacio es limitado por lo que no todos podrán asistir. Los líderes deben tener un grupo de vecinos de al menos 10 hogares que dirigen.
SOMOS MEJORES JUNTOS: EXCELENCIA EN EL LIDERAZGO DE LA PREPARACIÓN DE VECINDARIOS
NUEVAS IDEAS PARA LOS LÍDERES DE VECINDARIO
Convenza y motive a sus vecinos para que formen parte y se comprometan
a la preparación para emergencias en un taller matutino presentado por
Cayly Dixon, del Instituto Dale Carnegie.
Descubra un nuevo programa del Departamento de Manejo de
Emergencias del Condado de Sonoma de "micro subvenciones" del
vecindario y entérese de otros recursos locales disponibles para ayudarle
a ayudar a su vecindario.
Inspírese durante un taller vespertino sobre "Cómo diseñar experiencias
que las personas no querrán perderse (y de las cuales se hablará por
mucho tiempo)", presentado por Heather Lerner de los Boy Scouts of
America, y facilitado por Taylor Ray, de Studio B Creative.
Participe en un debate en mesa redonda con líderes comunitarios que
aspiran a la excelencia en la preparación para emergencias.
Hay espacio limitado. Inscríbase hoy en:
socobettertogether.eventbrite.com