County of Sonoma and incorporated cities have established standardized evacuation zones. Know your zone for home and work and be ready to go when an evacuation order or warning for your zone is issued.
Evacuation Orders
An evacuation order means leave immediately! There is a significant threat in the area.
Take family, pets and necessary items including medications, go-bag and important paperwork.
If you have time, check your neighbors to make sure they also received the alert and if they need assistance evacuating.
Call 911 only if you have a life-threatening emergency, do not call 911 for information.
Call 211 for information related to shelters for yourself and/or your animals and services being offered.
Evacuation Warnings
An evacuation warning means there is a threat in the area and is a possible threat to your location. Be prepared to leave if an evacuation order is issued for your area. If you feel unsafe, do not wait for an evacuation order, leave immediately.
Gather essential items now to be ready to go.
Check your neighbors to see if they need assistance evacuating.
Continue to monitor local media, social media and be sure you are signed up for alerts.
1. Use the Zone Lookup Tool

Enter your address into the field provided below to find your zone and evacuation status.
2. Use the County's interactive Incident Map
Enter your address in the field in the top left corner to find your zone, evacuation status, road closures, and more.
See the County's Evacuation Zone Map »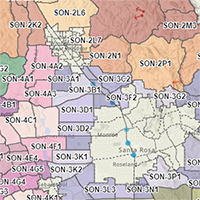 Local Evacuation Zones and Maps