County of Sonoma and its incorporated cities have established standardized evacuation zones. In the past, evacuation zones were different for each incident, now zones will remain mostly the same. Learn your zone for home and work and be ready to go when an evacuation order or warning for your zone is issued.
Include your zone name in your evacuation plan and learn the zones near your residence and workplace as well to provide awareness if an evacuation situation does occur. Share your zone with out-of-town friend and family for their own situational awareness.
Find your Zone – Two Ways
Please Note: Zones may change slightly from time to time. Please review your zone regularly.
1. Use the Zone Lookup Tool

Enter your address into the field provided below to find your zone and evacuation status.
2. Use the County's interactive Evacuation Zone Map
Enter your address in the field in the top left corner to find your zone, evacuation status, road closures, and more.
See the County's Evacuation Zone Map »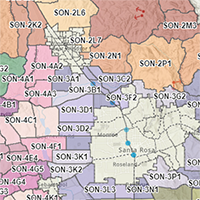 Local Evacuation Zones and Maps